Paisley is a famous pattern based on the shape of a droplet. This element has a lot of variations, and it gives infinite room for designers' and artists' creative imagination. The figures can be tiny or large, multicolored or painted with tints and shades of just one hue. They can be simple and clean, or decorated with intricate swirls, waves, patterns. There are a lot of theories explaining the pattern's origin and the meaning behind it. One can view it as a floral motif, life awakening symbol, or as fire flames, source of warmth and protection, or as tears of joy and relief. Paisley came into everyday fashion not so long ago, but it has already won affection of many fashionistas.
Historical reference
The pattern called "Indian or Turkish cucumber" in Russia and "Paisley" in all western countries, in the East is known as boteh or buta.
There is a long and remarkable story behind this peculiar shape. According to researchers, its origin can be traced to Persia, some specify that it was invented during the time of the Sassanid Empire. All researchers agree on the fact that this pattern came to Europe from India, a British colony at that time.
photo by: Textile Historian Margy Norrish
The pattern became known in Europe, and many local weavers adopted it. One of the manufactures, located in Scotland, in a town called Paisley, developed new technologies which made possbile mass production of cheeper and more colorful fabrics with buta pattern. These Scottish fabrics became popular and well known all over Europe, and the pattern got its second name - Paisley.
By the middle of the XX century the paisley pattern got quite forgotten, but the 70s brought it back in fashion by Hippies, a youth subculture of major influence during that period. Paisley, among several other ethnic designs, became a recognizable attribute of this revolutionary and freedom-loving movement. It appeared on bright bandanas, scarves and shawls, on the garments worn by painters, rock-musicians, all people of art.
Nowadays, this pattern has become classic. ETRO use it in their every collection as a signature print.

ETRO AW 2015/16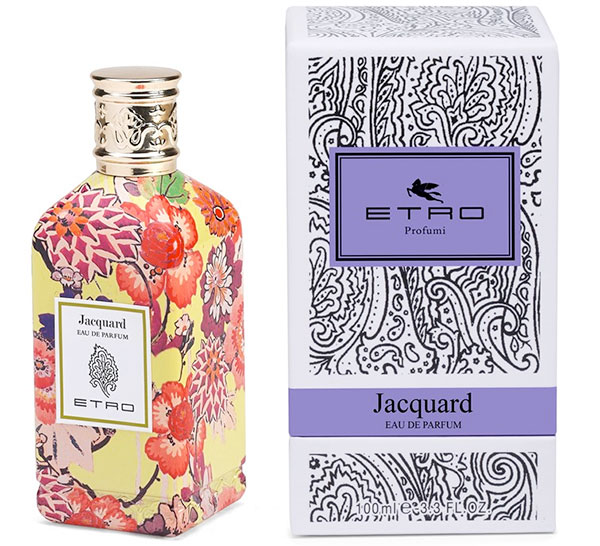 Eau de Parfum Jacquard Etro
How to wear and combine
Paisley is a tricky pattern, but there are just a few simple rules you should know to successfully combine it with other items of the wardrobe. The perfect match to paisley is neutral shades, as they frame it to and create an attractive and elegant look.
Unicolored fabrics do not compete with the paisley pattern, and create the perfect background for the beauty of the ornament on your paisley sling. Jewelry ethnic style will make accent on the eastern origin of the print, so if you want your look to be more neutral, then try to pick neutral jewelry, definitely without any Indian elements.
If you combine this print with a fringed jacket, a hat or cowboy-style boots, it is a simple way to create a boho or hippie look for casual wear. Combination of this pattern with deep, dark hues in your clothes will help you to create a feminine festive look.